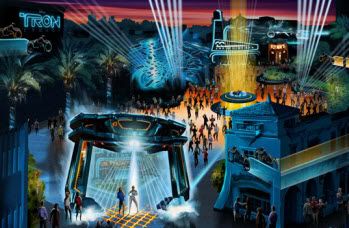 Movie-goers who can hardly contain themselves in anticipation for the release of Disney's TRON: Legacy on December 17 should visit California Adventure's ElecTRONica, a new concept which takes place on the park's Hollywood Pictures Backlot. Fans of the movie can experience the captivating setting of TRON as the entire area pays respect to the film with music, lights, and attractions. Sets from TRON will be recreated such as Flynn's Arcade, and guests will enjoy live music, entertainers, and all sorts of glow accessories inspired by the electrifying world of Disney's highly anticipated film.
The journey to the TRON mystique begins when guests are welcomed by music and video projections which will prepare them for what's in store. Next, those visiting Disney's California Adventure can enter Flynn's Arcade, visit an exclusive 3-D sneak peak of the film, or experience the TRON: Evolution video game area. There will also be a night club called the End of the Line Club with live DJs spinning beats by Daft Punk and others, as well as a main dance floor with live music where entertainers dressed as characters from the film will roam about. Guests can enjoy food and drinks on their Disneyland trip from any of the event's many themed eateries who will be adhering to the film's electrifying theme by serving glowing alcoholic and non-alcoholic beverages.
If you've been patiently waiting for TRON: Legacy to hit theaters since its announcement at Comic-Con three long years ago, you definitely want to pay a visit to Disney's California Adventure. ElecTRONica plans to inspire visitors every Friday, Saturday and Sunday this fall, and will be here for fans all seven days during Thanksgiving week and Christmas week.
Location and Time:
Pre- Show – Sunshine Plaza at 6:00 p.m. and 6:45 p.m; Friday- Sunday
ElecTRONica – Hollywood Pictures Backlot: 7:00 p.m. – Closing; Friday- Sunday