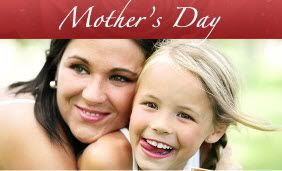 To many, Mother's Day is when we all rush to the local florist, pick up a box of chocolates and show our appreciation to the woman that's done the most for us. But few ever stop to think where this special day originated from.
A young homemaker by the name of Ann Marie Jarvis could be responsible for introducing this national holiday to our country. During the 1900's, Jarvis devoted her life to revitalizing family life after having suffered the tragic losses of the Civil War. Her crusade for healing the nation involved instructing women about the fundamentals of nursing and sanitation to better care for their families. After years of dedicating her life to the enrichment of the country, Jarvis died in 1905. Her daughter, Anna Jarvis, pushed for the creation of a holiday to honor all mothers, and committed her life to campaigning for the creation of this national holiday. Jarvis wrote countless letters to ministers, businessmen, and congressmen urging them to support the holiday, in hopes that it would instill appreciation for all mothers and reinforce family ties. After a widespread following and show of support from across the nation, President Woodrow Wilson declared it a national holiday on May 9, 1914.
To this day, Mother's Day continues to be one of the most celebrated US holidays, and according to the National Restaurant Association, it is the most popular day of the year to dine at a restaurant. This year Mother's Day falls on May 9th, so don't forget to acknowledge the most influential woman in your life!
2-Day Essex, Cape Cod and Martha's Vineyards Tour – Only $128
3-Day Essex, Cape Cod, Martha Vineyard, Rhode Island Tour – Only $188
2-Day Maui and Big Island Tour – Only $500
2-Day Vancouver City Sightseeing Tour – Only $37

3-Day Lake Tahoe, Sequoia, Napa Valley Bus Tour – Only $158
4-Day Various Bird, Salmon Farm, Lake Tahoe Tour – Only $218
2-Day Mexico Ensenada Bus Tour from Los Angeles – Only $109
1-Day Miami Tour – Only $75
1-Day Grand Canyon West (Skywalk) Bus Tour – Only $115
Redwoods, Wine Country & Yosemite – Only $629