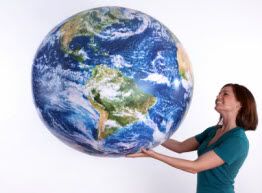 Great! Now, where do you plan to go? You could island-hop, go mountain climbing or travel Europe. The ideas sound fun, but maybe you're on budget, have limited vacation time or you have a terrible fear of heights. That's okay, because right now is a great time to make travel plans and book a tour in the United States. Traveling to some of the most popular hot-spots in the U.S. has never been more affordable. Appreciate big cities, theme parks or the great outdoors on your tour. You can even do all three on some tours. Here are four can't miss tour destinations for the travel hungry:
Los Angeles
Los Angeles is the home of great weather, movie stars and the original Disneyland Theme Park. Visit Universal Studios, the Walk of Fame, Hollywood and Solvang on a Los Angeles tour.
Yellowstone National Park
Fall in love with nature on a Yellowstone bus tour. The world's first national park has enough geysers, hot springs, lakes, rivers, canyons and mountain ranges too keep your senses busy for days. Ride horseback like a real cowboy and head out on the trails to spot elk, deer and wolves.
New York City
The hustle and bustle of this city attracts millions every year. New York City is known for its Broadway shows, museums, fine cuisine and opulent night life. New York Tours include popular landmarks such as the Empire State Building, Rockefeller Center, Ground Zero, South Street Seaport and Fifth Avenue. Only a few hours drive away, you can travel from NYC to Niagara Falls to explore the thundering beauty of the falls.
Washington D.C.
Washington D.C. is home to the President and politics. The District is also home to various monuments and memorials that celebrate various people and events. Washington D.C. Travel Tours include an educational stroll through the National Mall and the National Museum of Natural History. Discover the vibrant neighborhoods, the luxury hotels in Washington, D.C., and cultural diversity that D.C. has to offer.