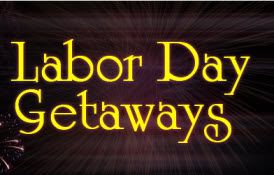 Labor Day is the time of year when you bid goodbye to summer, and take one last trip to celebrate the last big hurrah of the most travel-friendly season of the year. If you want to make the most of your Labor Day travel plans, follow these essential travel tips for a fun and a stress-fee long weekend.

Planning for your Labor Day Getaway
Planning ahead of time is crucial for a successful Labor Day trip. If you are planning on a road trip, print out extra copies of maps, driving directions and hotel reservations. As chances of a lot of folks hitting the road to your destination are quite high, it's best to begin your journey early in the morning to avoid heavy traffic. If you are traveling by air to your destination, then it's best to pack smart and ensure that your bags are under the weight limit, by confirming with the baggage limits for your airline. Get to the airport 2 hours before your planes, because holiday travel weekends are unlike anything else. A last minute check of all essentials (airline tickets, money, kids' supplies, etc.) before heading off always helps.
Safety
Even it is a small stop for a quick bite or a restroom break during your road trip, lock all the car doors and enable your alarm after getting out of your vehicle. Avoid leaving behind any valuable things in the car. Avoid driving during the night, as you run the risk of being exhausted while driving. Remember not to tailgate other drivers and not to get involved in a road rage if someone cuts you off. Always stop and rest if you feel tired.
Eating Tips
It's a good idea to carry some food items with you on your Labor Day getaway. Chips, sandwiches, cereal bars, chocolates and sufficient water will keep you energized during your journey. Not only will it fulfill your appetite during the travel, but also will help you to save money and keep any temptations to stop and grab a bite at fast food chains at bay.
Travel Pit Stop Tips
Stop at parks or rest areas along the way during your Labor Day travel. You and your travel companions can stroll in the park for a bit to loosen up your bodies and get rid of the stiffness caused due to long hours of sitting in the car. You can also enjoy your food comfortably by sitting on the available benches. Try to find a 24-hour retail store, if you need a place to stretch out and take a break from your road trip when it's dark.
If you haven't planned a Labor Day outing with your friends and family yet, now is the time to grab these amazing Labor Day Getaways by Tours4Fun. Enjoy Los Angeles tours, Yellowstone tours, Washington, D.C. tours, and Las Vegas tours at prices that have been recorded as the lowest this summer. Hurry! As before you know, summer will be officially over.