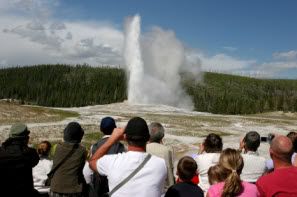 When it's time to plan the vacation your family will take this summer, consider going out of doors for a weekend, or even for a full week. If you don't have the kind of family that likes to go on camping trips, you can still have a great outdoor vacation by visiting a national park and taking a few guided tours. In this article, you will learn about planning a great vacation at Yellowstone National Park. Yellowstone is probably the most well-known American national park, and there's a good reason for this. There's so much to see and do at Yellowstone that you'll most certainly want to arrange a guided tour to get the most out of your trip.
When touring Yellowstone you will want to, of course, see the geysers. This natural feature in which water erupts from the earth is what people usually think of when they think of this natural area. Don't forget to check out other amazing features of the park. If you have even a passing interest in geology, you will find many wonders at Yellowstone. You will also want to learn about the waterfalls, which help to make the park such a magical place. To make the vacation more educational, sign up for a tour that will offer a fun and intriguing geography lesson. You can learn about why the park looks the way it does.
Wildlife is another great feature at Yellowstone Park. Your family can have a great time hiking and looking for small mammals and birds. If you want a more in-depth look at the park's wildlife, however, you would do well to arrange a tour. A tour guide can show you some of the hidden wonders of Yellowstone. As one of the most scenic areas in The United States, Yellowstone can be appreciated for being a gem with a guide who knows the most majestic features. Always consider the specialty of the tour before coming to a final decision.
Remember to call ahead if you plan on touring Yellowstone. Remember that especially in summer this park is a popular tourist destination. There are multiple Yellowstone websites you can use to see what tours are available. The websites may also lead you to some great deals on hotels and other accommodations. If you have been dreaming of getting away for a few days and enjoying the splendor and beauty of the outdoors, then Yellowstone National Park should be at the top of your list.