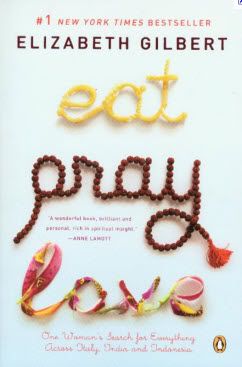 Moviegoers everywhere have been anxiously awaiting the release of Julia Robert's newest film, Eat Love Pray. This movie has generated an especially large following not only because of its Oscar Award-winning leading lady, but because it's actually based on the best-selling novel by Elizabeth Gilbert. The author, who traveled the world for a year after an ugly divorce with her husband, chronicled her tale of discovery, rebirth, and joy. Roberts plays the role of Gilbert, who first escapes to Italy, where she abandons any notion of a diet while devouring the country's cuisine as she learns the language along the way. Next she ventures to India, where she joins an ashram and learns the power of mediation. Finally, Roberts finds herself in Bali where she tries to dedicate her time to prayer, but instead falls in love with a business man. Gilbert's memoir gives hope to women all over the world who have always dreamt of escaping their monotonous lives to explore different cultures, traditions, and beliefs, and reminds us of the importance of independence and self-discovery.
While Elizabeth Gilbert's travels took her to Italy, India, and Bali, you can still take a short getaway from your everyday routine by taking a trip that's a bit closer! Try a Grand Canyon tour, where you can truly escape the fast pace of city life, and relish in nature's beauty and magnitude. Appreciate the beautiful valleys and cliffs carved throughout the canyon's landscape, and get a closer look on the Grand Canyon's Skywalk. For those who have already seen the Grand Canyon, take a trip to Red Rock Canyon instead. This beautiful destination is close to Las Vegas and leaves travelers in awe of its magnificent backdrop.
Let Gilbert's tale of adventure inspire you to take some time for yourself, and plan your next getaway to the Grand Canyon or Red Rock Canyon!